Video of the campsite

Presentation
MOBILE HOME 4 PEOPLE
MOBILE HOME 4/6 PEOPLE




The smaller models have the most up to date appointments, ideal for smaller families or couples.
Mobile-home with terrace and sun umbrella, more than 4 years.




The larger models are more traditional, combining comfort and authenticity for up to 6 persons !
More than 8 years of use with flagstone and sun umbrella.




The most modern and up to date in terms of comfort, space, and layout ; with a capacity of up to 6 people.
+/-5 years with covered terrace.
Services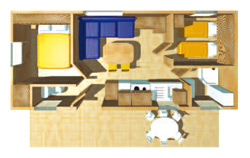 Non contractual plan.
All our mobiles-homes are equipped with a spacious sunny living room with dining areas convertible into double beds for the 6 people, a bedroom with a double bed, a bedroom with single side by side beds (pillows and covers provided, sheets not provided), equipped kitchen with gas cooker, refrigerator, microwave, electric coffeemaker and dishes for 4 or 6 people max. according to lodging, heating and water-heater, shower room with wash-hand basin and shower, separate WC, and garden furniture.
---
Mobile Home Rentals
Nightly rate in Euros - Excluding tourism tax (extra charge).
per Night in €uros
01/04 → 05/04
09/04 → 27/04
01/05 → 04/05
08/05 → 16/05
20/05 → 24/05
59 €
63 €
68 €
06/04 → 08/04
17/05 → 19/05
25/05 → 27/05
3 nights minimum
66 €
69 €
76 €
28/04 → 30/04
05/05 → 07/05
♥ 28/05 → 24/06
♥ 03/09 → 30/09
60 €
64 €
69 €
25/06 → 01/07
67 €
70 €
76 €
* 02/07 → 08/07
84 €
87 €
97 €
* 09/07 → 29/07
105 €
108 €
120 €
* 30/07 → 19/08
120 €
123 €
137 €
* 20/08 → 26/08
97 €
99 €
109 €
27/08 → 02/09
84 €
87 €
97 €
* Reservation fee 19€ per stay
This offer cannot be combined with other offers, for a minimum 3-night stay over the period exclusive of special offers, excluding long weekends, public holidays, fixed prices, July and August
Additional charges
per Night
in €uros

Extra car

6th person

Pet

Visitor

Trailer
01/04 → 01/07
27/08 → 30/09
6 €
8 €
7 €
4 €
6 €
02/07 → 26/08
9 €
11 €
7 €
4 €
9 €